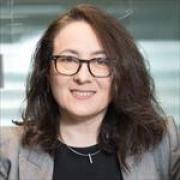 Katerina Akassoglou, PhD
Dr. Akassoglou has pioneered studies in the investigation of neurovascular and neuroimmune mechanisms in neurologic diseases, and in particular the role of the blood clotting factors in CNS autoimmunity, trauma, and neurodegeneration. Her aim is to understand the mechanisms that control the communication between the brain, immune and vascular systems with the ultimate goal to design novel therapies for neurologic diseases—and in particular, multiple sclerosis and neurodegenerative diseases.
Dr. Akassoglou identified blood clotting factors as major mediators of neurologic disease. She made the unanticipated discovery that the blood clotting factor fibrinogen is a key activator of microglia in the CNS. She developed novel imaging tools to study the neurovascular interface and therapeutic strategies to protect from neuroimmune diseases by blocking the damaging effects of blood factors in the brain without affecting their beneficial effects in blood clotting. Dr. Akassoglou takes a multifaceted approach to her research, incorporating animal modeling, in vivo two-photon microscopy, drug discovery, preclinical translational research, and biomarker studies. Dr. Akassoglou has published over 100 papers in peer-reviewed journals and she is active in several national and international organizations, editorial boards, and funding agencies.
Akassoglou has received several awards, including the Presidential Early Career Award for Scientists and Engineers, the highest honor bestowed by the US government on outstanding scientists and engineers beginning their independent careers. She has also been presented with the John J. Abel Award, the Dana Foundation for Brain and Immunoimaging Award, the Vilcek Prize for Creative Promise honor, The Marilyn Hilton Award for Innovation in Multiple Sclerosis Research, the EUREKA and R35 Research Program Award by NINDS, the Barancik Prize for Innovation in MS Research and the ISFP Prize. She was elected Lifetime fellow of the American Association for the Advancement of Sciences (AAAS) and fellow of the National Academy of Inventors (NAI).
Dr. Akassoglou earned a BSc degree in biology and a PhD in neurobiology at the University of Athens, Greece. She was trained in neuropathology at the University of Vienna before performing her postdoctoral work at the Rockefeller University, and New York University. She started her laboratory as an Assistant Professor at the Department of Pharmacology at the University of California, San Diego where she was promoted to Associate Professor with tenure. She is now a Senior Investigator at the Gladstone Institute of Neurological Disease, and a Professor in the Department of Neurology at the University of California, San Francisco. She is also the founder and Director of the Gladstone Center for In Vivo Imaging Research.